Objective
Website Conversions:
http://zoomtucson.github.io/FitnessMarketing/
Duration:
Nov 16-24 2015
Budget:
$3 a day, spent $24.73
People reached:
5,299.
Results: For all intents and purposes, FAILURE. Or as I like to call it a great learning experience.
INTRO
This is a blog post of the ongoing work and results of this marketing campaign. Why did I create that campaign the way that I did? Desktop remote side, no FB page, only conversions: lead form?

I wanted the first campaign to be as direct as possible, and that went straight to business. It had to use a limited budget (>5$ a day) to measure conversion rates for an Inbound Lead Form. No likes, no clicks to websites: simply leads that I get as a result of this campaign. And I was not willing to create and maintain a separate FB page for this.
BACKGROUND
Zoom Media primarily and exclusively works on an outbound sales model for lead generation & qualification. And then the Account Executive closes the sale inhouse via a sales presentation. Typical process is the traditional ad sales industry. This model works and nothing is broken.

This campaign was going to test an inbound marketing model to sell digital advertising (Out of Home segment) to a hyperlocal audience in Tucson, AZ. It would supplement the current outbound sales model. The appeal was the targeting options in FB and whether they can be leveraged for this industry.

Facebook has the following Advertising Objectives:
Clicks to Website: Send people to your website.
Website Conversions: Increase conversions on your website. You'll need a conversion pixel for your website before you can create this ad.
Page Post Engagement: Boost your posts.
Page Likes: Promote your Page and get Page likes to connect with more of the people who matter to you.
App Installs: Get installs of your app.
App Engagement: Increase engagement in your app.
Offer Claims: Create offers for people to redeem in your store.
Local Awareness: Reach people near your business.
Event Responses: Raise attendance at your event.
Video Views: Create ads that get more people to view a video.
Source: https://www.facebook.com/business/help/197976123664242

The campaign I selected was a "Website Conversion" for lead forms. Added Facebook Pixel to the Thank You page to measure conversions. This pixel will also be useful for re-targeting and garnering better audience insights.
AD PLACEMENT
Five main options: Desktop News Feed, Desktop Right Column, Mobile News Feed, Audience Network & Instagram.

FUN FACT: On browsers with ad block enabled- you cannot see Sponsored Ads on the right hand side. This was the option I chose. Great. This was surprising to see, considering FB is a native ad platform but not so surprising as the Desktop Right Column is essentially just another banner display ad. So newsfeed ads are the way to go. I guess this is another incentive by FB for sponsored content and newsfeed promotions via a FB page.

Nothing much to say about choosing demographic details. It's obviously very detailed. Interests, Behavior and Audience reports. What makes Facebook Facebook is the intricate level of user tracking which advertisers love and can get as scrupulous as required.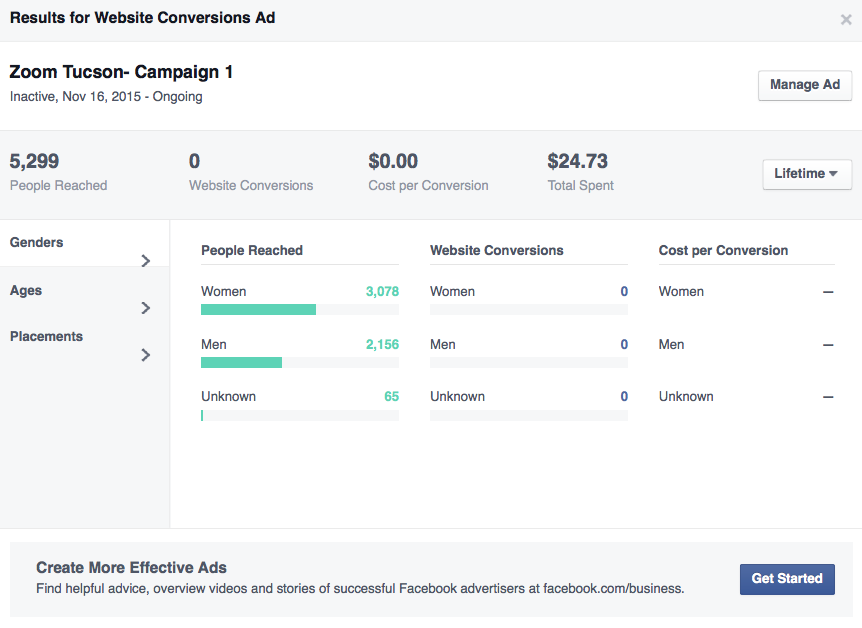 WHY NO FB PAGE?
Because I wanted to see if we can have a successful campaign bereft of one. It's too much of an emotional and time commitment. As an advertiser, how far do I have to become invested in the platform to reap benefits? Maintain a FB page, build out its audience, post engaging content, interact with people.

Since I chose not to promote and maintain real estate on FB by creating a page, the advertising option(s) were rather limited. "Desktop Right Column" was the only test I could start with. This is how it looks: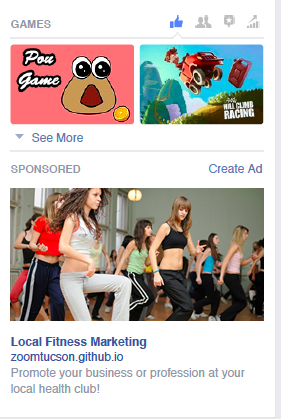 Conversion Path:
FB Ad --> Landing Page --> Lead Form
Landing Page
Hosted on [GitHub Pages](https://pages.github.com). Powered by [Twitter Bootstrap](http://getbootstrap.com). Using the free [Start Bootstrap](http://startbootstrap.com) theme. Content, images and files all belong to [Zoom Media Connect](http://www.zoommediaconnect.com).

No inbound trackers or analytics tools maintained in the first iteration of the website.

The only glitch I ran into was creating an online form. GitHub Pages only supports static sites, so PHP and contact forms are going to be an issue. My solution was using: (1) formspree.io (2) Setting up spam prevention (3) Basic form validation.

This could be the subject of a short blog post in the future. In the meantime you refer to these workarounds if there is a problem:
http://formspree.io/
http://sebastien.saunier.me/blog/2014/04/15/you-do-not-need-a-database-for-your-contact-form.html
http://www.wufoo.com
http://www.reimertz.co/thoughts/contact-forms-on-github-pages-made-easy/
http://www.redbridgenet.com/four-free-options-for-adding-contact-forms-to-your-website/
Lessons & Future Tests
Make a Facebook Page for the ad campaign. It gives you better advertising options
Should have a 'Visit to Website' objective/tracking enabled to know if the ad is broken or the landing page.
Testing out new headlines and text of the FB Ad. And while I should just leave it at that and not conduct several tests concurrently, I will also make some improvements to the landing page.
I am going to be testing out Newsfeed and Mobile Desktop ads now.