Everyone's favorite family game, "Cards Against Humanity". But with GIFs!
Hosted:
https://gifsbattlehumanity.herokuapp.com/
Github:
https://github.com/InvasiveLionfish/GAH (Rules can be found in the ReadMe)
Tech: Rails 5, ActionCable, Giphy API, Twitter Bootstrap, Heroku
Team: The brilliant Erin Pettigrew, Gabriel Seidner, Robin Tully & Myself.
Implemented websockets in Rails 5 with ActionCable to build real-time game play.
Upgraded a Rails 4 app to Rails 5, implemented Postgres database and modeled associations with ActiveRecord.
Leveraged jQuery & AJAX for smoother user experience. Implemented Bootstrap theme.
Successfully managed deployment with Heroku
Successfully wrote RSPEC tests, and refactored using design patterns.
Work Done
Upgrading to Rails5 :
The act of upgrading major versions between apps was worth the trouble. The decision to upgrade from version 4 to 5 was because of ActionCable, and at about the midway point of development.
Action Cable : This deserves to be its own blog post. Setting this up was sheer pain and joy infused. Remember kids, this was way back when Rails 5 was still in the pre phase and there was absolutely no documentation about ActionCable. It was just a cool buzz word which was used to justify the upgrade, but nobody was using it yet in their projects. I went all around the internet and back- and the winner in instructions, came from a blog post by Sophie Benedetto.
Figaro Gem :
Nice to learn different options to hide environment variables. Did not need to finally use figaro, since GIPHFY API keys are public anyway.
Facebook SDK for Login :
Why build out your own authentication when you got JavaScript SDKs? Seriously why. Later, user authentication was implemented. Interesting to learn about different authentication options like bcrypt, devise, oAuth.
Design & Performance :
Implemented Design Patterns like Service objects & Jobs, improved performance via caching. Writing RSPEC tests were also fun.
Challenges & Gotchas
-> Designing the database surprisingly took more time than anticipated. We had to revisit the drawing board at least thrice.

-> Figuring out controller actions and fitting Rails MVC pattern & following RESTful conventions for real-time gameplay was pretty tough for me to wrap my head around. Robin Tully wrote a good piece about it.

-> Deploying to Heroku, interesting conflicts and the deal with reading log errors via 12-factor.

Lessons
Working with teams. Good communications is key. Balancing different styles, and different learning stages. When to atomize tasks vs. pair-program. Asking for work and taking work in a non-hierarchical structure. Don't: Go crying into Battery Park bawling at your ineptitude. Do: ASK FOR HELP.

The proper pronunciation of the word gif. There is a debate between the mellow good g gif, and the sleazy sounding jiff (which I prefer). Scholars lean on following the personal preference of the creator. Although the full form for the acronym GIF is Graphical Inter-something F. So go figure.

Rails MVC style not very intuitive for games, especially ones with realtime interactivity.

When dealing with Git workflow. Don't be eager to --force. (Austin powers image of working on master)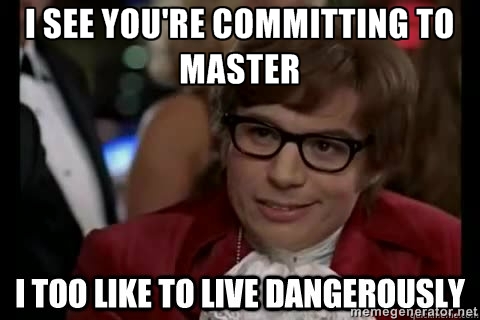 Enjoyed:
Working on a four person team with different styles under a tight deadline;

ActionCable. And getting introduced to web sockets in general;

Learning about the cool things you can make with jQuery, and how CoffeeScript can be useful.

Writing RSPEC tests at the unit and controller level. I surprisingly enjoyed this.

Future Features
Ability to upload your own hand of gifs.
Play rounds based on categories (like cats or Simpson gifs exclusively)
I'd like to use Travis for cleaner refactoring, coverage tests.